Paul Berge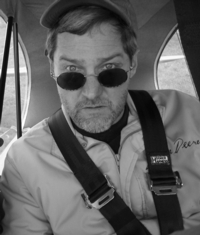 Author, flight instructor, former FAA air traffic controller, public speaker
Aviation author Paul Berge is a flight instructor, former FAA air traffic controller, author of the novels Bootleg Skies and Inside The Circle plus short-story audiobook collections, Ailerona and the Logbook. He was the Editor of IFR magazine (1999-2005), and is currently the Brainteaser author (since #65) on AVWeb.com. Paul could also be seen weekly on Iowa Public Television's Living In Iowa hosting the Side Roads (nominated for an Emmy (r) Award) travel series (aired from 2000-2006). For over ten years he was the voice of radio's Rejection Slip Theater (c) on newsradio WHO-1040 AM and now podcast through iTunes.
IFR and Pacific Flyer magazine readers have known Paul Berge for years, and the FAA doesn't like that one bit. He's a taildragger flight instructor at home in his open cockpit biplane or instructing from the back seat of his 1946 Aeronca 7AC Champ.
For many years, Berge has been the awards Master of Ceremonies at the Antique Airplane Association's annual Fly-in at Blakesburg, Iowa.
Invite him to speak at your next event, and he'll tell hilarious air traffic control stories and weave in his experiences shanghaiing Russian visitors to take them flying when they were supposed to be lunching with far more diplomatic people.
In short, Paul Berge, recipient of an Iowa Motion Picture Association's (IMPA) 2006 Award of Excellence and nominated for an Emmy (2006), author of Ailerona, the Logbook, and Bootleg Skies is a loose cannon on the aviation literary deck who will spin the fun and romance of flight for your entertainment and possible edification. And after about 50 minutes of that, he'll hang around in the pilot's lounge to autograph books, answer questions, bus tables, and swap stories about flying his Marquart Charger biplane off his grass airstrip in Iowa. To schedule Paul Berge to speak at your upcoming event:
Contact Us