Kevin Garrison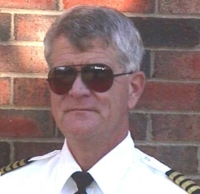 Airline captain, storyteller, author, humorist
Captain Kevin Garrison is a storyteller who weaves his unique views on life, politics, and aviation into a presentation that's sure to amuse, inspire, and possibly even inform.
Kevin's monthly column on AvWeb.com, The CEO of the Cockpit, reaches hundreds of thousands of readers, and he's been a longtime contributing editor at IFR magazine. He's also contributed to: Air & Space Smithsonian, Plane & Pilot, Upside, Salon.com, Flyer Newspapers, Creativity, Writer's Digest, Biztraveler, Mercator's World, AOPA Pilot, Airline Pilot, US Aviator, Private Pilot, Ace Magazine, Southern Aviator, Equus, Horseplay, The Lexington Herald Leader, and a few others.
When it comes to flying he's done just about everything from banner towing to hauling candidates for Governor and a few dead bodies. He's flown forest fire missions, carried sky-divers, surveyed turtles, flown air show routines, and has flight engineered, co-piloted and captained transport jets for over fifteen thousand flight hours. Currently Kevin flies as captain on a Boeing 767.
Two of his books, Hey, You're Dead, A Novice's Guide To Non-Being and, Why Can't A Woman Be More Like My Dog? are available for sale at his talks.
His latest book, Clear left; I'll Have the Chicken may convince you to take AmTrak.
When not expanding the envelope of political correctness, he lives on a small horse farm in Lexington Kentucky, thinks that humans are the otters of the universe, and is pretty sure that professional wrestling is real but the rest of the world is bogus. To schedule Captain Kevin Garrison for your next event:
Contact Us


Read Kevin's new book and learn more about airlines than Homeland Security cares to admit