Paul Beck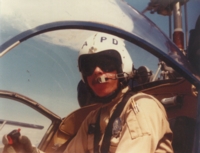 LAPD helicopter pilot (ret), flight instructor, storyteller
Remember OJ's slow-speed chase through Los Angeles? While you may have seen it on TV, Paul Beck was in slow pursuit as the pilot of an LAPD helicopter.
It's events like that chase, gleaned from 26 years as a Los Angeles poilceman flying helicopters to some of the most bizarre crime scenes imaginable, that makes Paul Beck a fascinating storyteller for any event.
Spend an evening listening to Paul Beck tell about narcotic stakeouts in the Califronia desert, high-altitude mountain patrols, low altitude patrol in class B airspace, and being First At Scene to southern California's sparwling law enforcement drama.
To schedule Paul Beck for your next event:
Contact Us